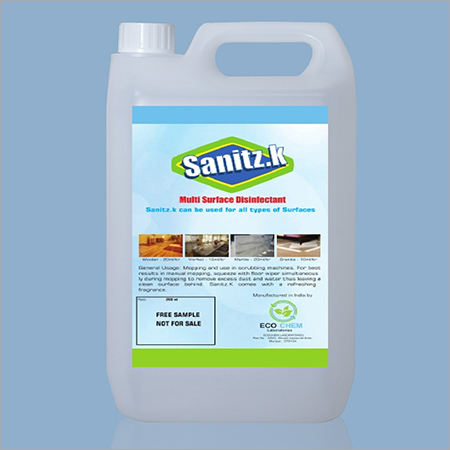 Sanitz k
Product Code : 32
Price And Quantity
Minimum Order Quantity

:

100 Ltr
Unit of Measure

:

Box/Boxes
Product Specifications
Usage

:

Kitchen
Product Description
Description
Sanitz-K is a concentrated liquid detergent disinfectant which cleans and disinfects all surfaces in one step. The product is suitable for all surfaces in food premises. The combination of QAC, sequestrants and the buffer system makes this product very effective against a wide range of micro-organisms, in all water conditions. The formulation also contains surfactants, which makes the product suitable for one step cleaning and disinfection.
Sanitz-K conforms to SABS 1853 "Disinfectants and Detergent disinfectants for use in the food industry".
Features
Wide spectrum of bacteria killed.
Effective and versatile product
Multi-purpose formula hard water tolerant
Non-perfumed
Biodegradable
Colour Coded alphanumeric label
Benefit
Safe disinfection for food preparation areas.
Suitable cleaning all hard surfaces (will not damage delicate material e.g. plastics, paintwork or polished metals).
Cleans and disinfects in one application
Non-tainting
Environmentally acceptable.
Easy identification - assists staff training
Use instructions application
For SL bottle with dosing cap: Spray cleaning and disinfection:
1. Use at a concentration of 40ml in a 750 ml spray bottle. For regular cleaning, a concentration of 4ml per liter of water can be used.
2. Remove gross soiling.
3. Spray onto surfaces.
4. Leave for at least 5 minutes.
Rinse food contact surfaces thoroughly with clean water and allow to air dry.
Important:
Test material compatibility in a small, inconspicuous place before use.
Tecnical Data
Appearance Clear Orange Coloured Liquid
pH as such 8-9
The above data is typical of normal production and should not be taken as a specification


Safe handling and storage information
Essentially non-hazardous.
In case of contact with eyes rinse immediately with plenty of water, holding the eyelids open and seek medical advice if effects persist. In case of skin contact wash skin thoroughly. In case of ingestion remove product from mouth, give water or milk to drink and seek medical advice.
Full guidance on the handling and disposal of this product is given in a separate Material Safety Data Sheet.
Contact Us
Plot No. 5E, S.No. 133/1p, Shivalli Industrial Area, Manipal, Karnataka, 576119, India
Phone :+918061857097